Access
The protection of the environment and a smooth access to the racetrack are priorities for DROHME. In order to allow you to access the site, we provide you with several alternatives of mobility which participate in the reduction of our ecological footprint, to offer you easy and comfortable solutions, while reducing to the maximum the nuisances around the site.
Think green, think alternative mobility!
The racecourse site is open every day, from 8am to midnight, through the main entrance (n°1 on the map).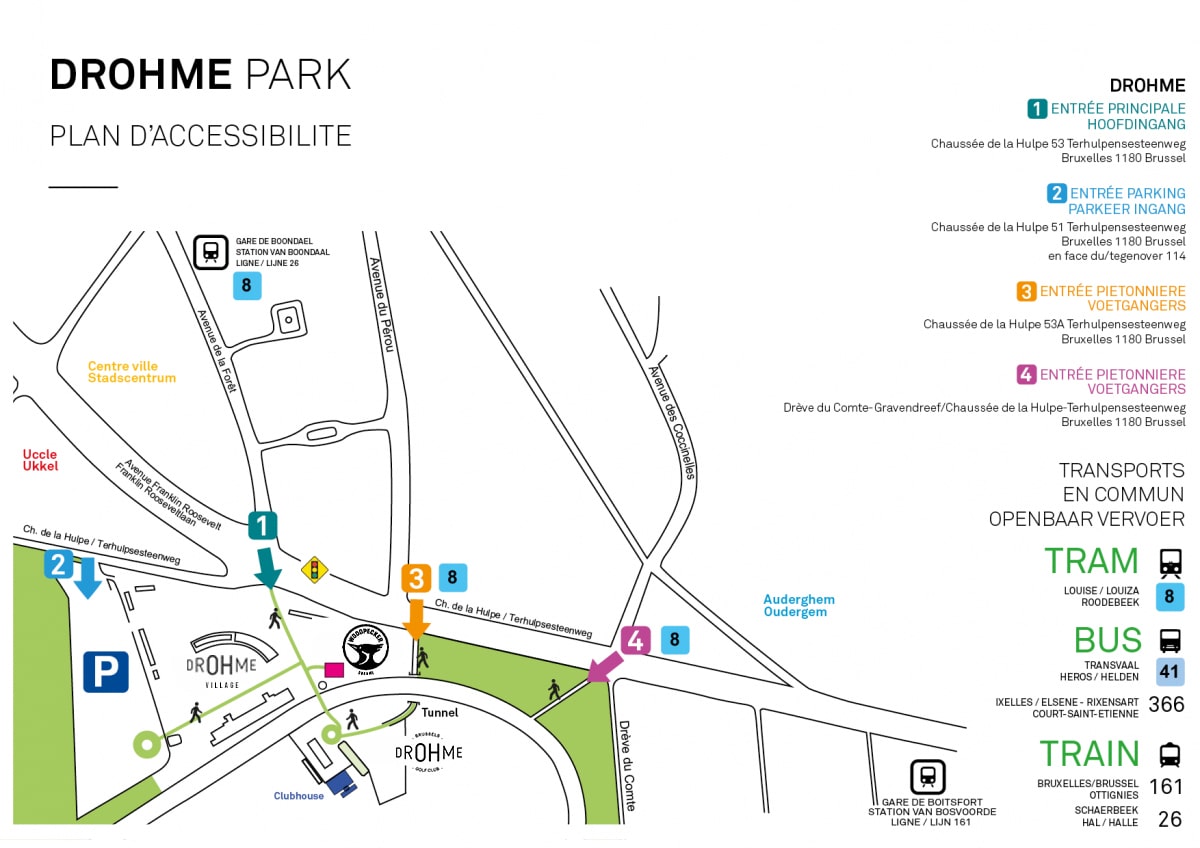 For pedestrians:
Main entrance, through the porch at the intersection of Chaussée de la Hulpe and Avenue Franklin Roosevelt, 53 Chaussée de la Hulpe. Every day from 9 am to 6 pm.
Entrance, at the crossing of the Chaussée de la Hulpe and the Drève du Compte
By the forest access roads
For the bicycles:
The site is accessible to cyclists, both by road and by the Forêt de Soignes and its many cycling paths
Public transport:
The site is easily accessible by public transport:
STIB
Streetcar 8 Louise/Roodebeek, stop in front of the site "Hippodrome/ Renbaan". Consult the timetable in real time !
Bus 41 Transvaal /Héros, stop at Bondael station during the week, stop "Hippodrome de Boitsfort" in front of the parking lot during the weekend. Consult the schedules in real time !
TEC
Line 366 Brussels/Rixensart/Court-Saint-Etienne, stop in front of the site "Hippodrome/ Renbaan". Check the timetable !
SNCB
Train line 161 Brussels/Ottignes-LLN, stop at the station of Boitsfort (at about 500 m)
Train line 26 Hal/Vilvoorde, stop at the station of Boondael (500 m)
For cars:
Parking and driving on the old race ring is strictly forbidden for vehicles.
Thank you for respecting the signs on the site and around the site, as well as the peace and quiet of the residents (no honking, no illegal parking, no noise pollution around the site…)
114 chaussée de la Hulpe, 1180 Uccle
CONTACT
DROHME offices
Chaussée de la Hulpe 53a,
1180 Uccle
+32 [0]2 613 09 09
info@drohme.be
Any questions? A suggestion ? DROHME is at your disposal!
If you have any questions, suggestions or remarks concerning a DROHME activity or an event hosted on the site, please let us know at info@drohme.be.